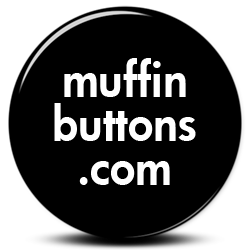 Questions on a previous order or backorder? Want pricing and turnaround on bulk orders? Custom buttons in other designs (graphics, etc.)? Please inquire via e-mail. Thanks -- Erica
MuffinButtons by Erica Schultz
Shiny, candylike 1" buttons. Label yourself!
---
You can also order via snail-mail, but not right now. Check back later.
---
Pre-Arisia (2013) Special!
While we update the site, here's how you can order all the awesome MuffinButtons you didn't get to buy at Arisia 2012 (or if you're missing Arisia 2013). Custom buttons must be pre-ordered by Monday, January 14 for pickup at Arisia—no custom work is available at-con! Plan ahead!
To order multiples of the same button, change your quantities on the next page and click "Update". Then click "Continue shopping" to order additional buttons. (Or, for 6 or more of the same button, see our Bulk Orders page.)

Just $1.25 apiece.
Color = designer's choice based on availability.

You can enter all your selections here, or feel free to browse the other pages on the site.

Put your label on a button for only $2.50.
(Recommended 30 characters maximum; remember, these are small buttons.)